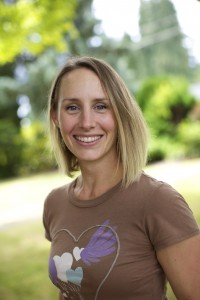 Licensed Massage Practitioner
Ayurvedic Technician
Kellie earned her degree from Brenneke School of Massage (2006-2007) where she developed proficiency in general wellness, sports, pre-natal and injury treatment through a combination of Swedish, myofascial release and neuromuscular re-education techniques.  She has worked with 2 local chiropractors since 2009, where she has honed her abilities to effectively treat chronic and acute injuries.  In recent years, she has begun training in Ayurveda techniques, including Abhyanga massage, Shirodhara and Swedana therapies.  Kellie also has a B.A. from the University of Washington in International Studies with a Minor in Spanish. 
Se Habla Español 
Services Offered for all age groups:
Chronic/Overuse injury treatment (Eg. Frozen Shoulder, Thoracic Outlet and Carpal Tunnel Syndrome)
Subaccute Injury treatment (due to whiplash, falls, sports etc.)
Overall wellness/maintenance massage
Pre-Natal massage
Abhyanga massage
Shirodhara Bliss Therapy
Swedana (Herbal Steam)
Cash, checks and nearly all cards with major credit company logos are accepted. She is open to working with clients who have WA State L&I and PIP claims, and can help clients with the process of attaining out-of-network health insurance reimbursement. 
Schedule Appointment with
Kellie