"Return to Thyself  II" Six day Journey into Paradise of Self Exploration
     Meditation, Yoga, Ayurveda, Interactive Spiritual Talks with Waterfalls and Surrealist Park to Explore
March 8-14th, 
 2018     Cost Per Person $1,400.00      Airfare Not Included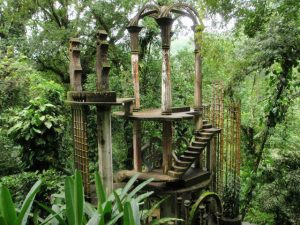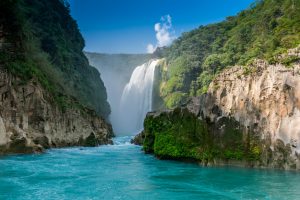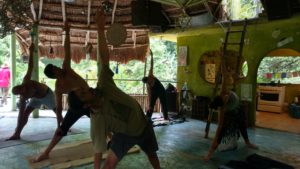 Transpire yourself to experience the hidden gem of Las Pozas and Tamlu Waterfall, Xilitla, Mexico.  This retreat will bring you the ultimate experience to dive deep into consciousness of your own body that mirrors the essence of your spirit.  Join Nickole and Martin as your guides in this unique journey to explore what makes you from the inside out.  Together they'll create sacred space for a multi cultural experience to embrace these ancient techniques and find results that last a life time.

Transportation to and from hotel in Mexico City, Double Occupancy per lodging in Xilita,  Two Authentic Vegetarian Mexican Meals a day, Activities to Surrealist Garden and Tamul Waterfall.

For Further Information Feel Free to Contact Us; All Questions Encouraged!  

Martin 206-755-8943

moderngolfinstruction@gmail.com

               *Espanol Inquires contact Martin; he's fluent in both languages                   

                                                           

Reserve your spot today with a 

$500 deposit.   Retreat is limited to fourteen students.  Send Deposit by Cash App $NickoleAyurveda,  PayPal (Send as A Friend) to nickole108@gmail.com or call over the phone an pay by card.  (All payments in US Dollars, which is the local currency for your guides.)  *Full payment is due February 5th, 2018.  You can make three payments if need be.

    ~Airfare is not included to Mexico City~ 

     Recommended Airlines: Latinofare, Canadian Air, and Expedia 

                          Return to Thyself:  Full Retreat Schedule                     

  Departure to Xilita March 9, 2018 at 8am from recommended hotel in Mexico City.

      We'll stop for a Traditional Mexican Lunch and Shopping mid way in Pena de Bernal for a couple hours.

Bring Cash for we loved this location for the gems, crystals, and clothing.  Once we arrive at Retreat we'll check into rooms, have dinner and opening ceremony.

Day Two: March 10, 2018

7-8 AM Silence Meditation

15 min break

8:15-9:15 PM Slow Vinyasa Yoga

9:15- 10AM breakfast

10AM- 4:30 PM Free Time

5:00-6:30 PM Dinner

6:45-7:45PM Ayurvedic class  Sankhy (Our Consciousness into Matter) with Nickole

Sankhya is a model of evolution which explores consciousness and self healing.  Consciousness exists, lives, and dwells in the city of the senses.  Discover how the five elements develop the different doshas and unique personal constitutions.  

15 Minute Break

8:00-9 PM     The Five Senses with Erick

Explore the senses in depth though different exercises. These exercises will provide tools to recognize how each sense plays a role in your everyday life. These tools will enhance your connection to a more meaningful existence.

Day Three: March 11, 2018

7-8 AM Silence Meditation

15 min break

8:15-9:15 PM Slow Vinyasa Yoga

9:15- 10AM breakfast

10AM- 4:30 PM Sculpture Garden

5:00-6:30 PM Dinner

6:45-7:45 PM  Ayurvedic Class Dharsan (Body Assessment)

Learn ancient techniques that help you identify when your digestive fire is out of balance with Tongue Analysis.  Plus, find out what each line means that arrives on your face and finger nails.  No line is permanent.   You'll be identity imbalances before a DR.

15 Minute Break

8-9 PM Awareness: Knowledge or Perception; Situation or Fact w/ Erick 

Awareness is life; awareness is your state of being that explores knowledge, perceptions, situations and facts.

Erick's class will help you understand situations and provide you with knowledge to find positive outcomes without altering your perception.

Day Four: March 12, 2018

7-8 AM Silence Meditation

15 min break

8:15-9:15 PM Slow Vinyasa Yoga

9:15- 10AM breakfast

10AM- 4:30 PM Free Time (Pre Purchase  Temascal or Trip to Town for shopping on your own)

5:00-6:30 PM Dinner

6:45:7:45 PM  Ayurvedic Class Chakras and Koshas with Nickole 

We embody wheels of light called Chakras.  Each Chakra represents a state of consciousness surrounded by sheaths known as Koshas.  We will use diagrams, meditation, colors, characteristics of emotions related to each organ, bija mantra sounds to bring consciousness and balance to our energy centers.

15 Minute Break

8-8:30PM Silence and Stillness with Erick 

We spend much of our human experience, if not all the time, mentally and physically too, searching for fulfillment in material things that last a short time. Accordingly, we put together a class that can help you bring balance between action and stillness & sound and silence

8:30-10 PM Closing Cermony with Erick and Nickole

Day Five:  March 13, 2018

6-6:30Am Mediation

15 min break

7:15-8AM Yoga

8-8:45AM Breakfast

 9:00AM-5PM we leave to Tamul Waterfall for a full day activities. We will provide a snack and dinner upon return around 7pm.

Day Six:  March 14, 2018

Meditation Optional 7:30-8:30AM

Breakfast 8:45-9:15 

Must be packed and ready to load van by 9:30AM

*Recommended date to return to your home is ?  

---

~Meet your Guides Erick Avil, Nickole and Martin Gonzales~

---

Erick Avila is a seeker of truth. For the past ten years, he has been devoted to his spiritual growth through his practice in continual retreat and pilgrimage.  Erick enjoys serving his community and teachers as he travels around the USA, Colombia, and Mexico teaching silent meditation with his wonderful teacher, Swami Kena.   These teachings come from India thru the Guru Shivabalayogi's Philosophy. Erick has also traveled alone to contemplate his studies and pilgrimage with some indigenous communities in Mexico.

Erick is the founder of a project call LuzAmerica.org that promotes and organizes spiritual retreats, pilgrimage walks, volunteer opportunities to help indigenous communities, and those on a spiritual quest.  After years of meditation, prayer, and other practices; Erick's long, hard, beautiful, and challenging journey has brought him to his life purpose.  His life purpose is to reconnect people back to our divine essence. Now more than ever, we have disconnected ourselves from each other as a human family and  also from our mother earth who has consistently provided for us.  It's time to deepen our quality of life and return to our highest self. This experience in most cases can be accomplished by the help of a spiritual teacher and medicine people.

Join Erick Avila in Mexico to deepen your practice "To Return to Thyself"  while he guides you through meditation, vedic scriptures of  Yoga Vasistha, spiritual talks on the power of silence, awareness, and the five senses.