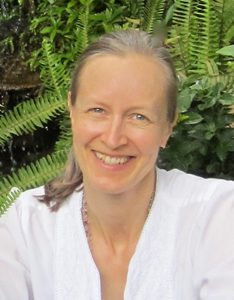 Energy Healer
Reiki Master in the Usui tradition
Ayurveda Wellness Counselor and Practitioner
Kirtana Devi offers Energy Healing and Wellness services, with a special focus on helping those who wish to heal any aspect of themselves that feels blocked or stuck—often caused by trauma—that prevents them from living a more fulfilling, balanced, peaceful and joyous life. Her gift is in helping people break through physical, emotional and spiritual limitations by working to heal the root cause of dis-ease through energy work, spiritual coaching, and intuitive guidance. With the help of her guides, she enables others to discover the joy of naturally unfolding into their True Self.
As an Energy Healer and Wellness Practitioner, Kirtana has received blessings from India's world-humanitarian "Amma" for her healing work and was authorized by Brazil's famous medium-healer "John of God" to make his Casa healing center's Chakra Crystal Light Therapy (a.k.a. "Crystal Bed" treatments) available in the U.S. Her work artfully blends knowledge gained from a variety of global healing modalities and includes certification as a Reiki Master in the Usui tradition, Ayurveda Wellness Counselor and Practitioner, graduate of Kerala Ayurveda.
For more information, and to schedule Channeled Energy Healing or Crystal Bed Healing sessions with Kirtana, please visit her at KirtanaDevi.com.