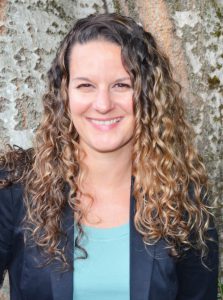 Licensed Mental Health Counselor Associate
Gretchen M. Gerhardt is a Licensed Mental Health Counselor Associate in the state of Washington.  As a graduate of the Masters in Counseling Psychology program at Bastyr University.  Gretchen believes in the mind, body, spirit connection and recognize the value in holistic health and healing. Prior to her work as a counselor, she served as a Recreation Therapist for just over 13 years.  This experience allowed her the opportunity to work in numerous health care settings which provides Gretchen with a unique perspective in my approach to therapy.  As a Recreation Therapist, she never underestimates the importance of having fun.
The foundation of Gretchen's work is built upon compassion, empathy, non-judgment, and openness; establishing an environment of safety and trust.  Her work is rooted in attachment, feminist, and multi-cultural theories, looking at how our past informs our present, and how social experiences contribute to shaping who we become and how we see the world.  The techniques Gretchen utilizes are dependent on each individual, but some common techniques she draws from include: mindfulness practices, guided imagery, various creative modalities such as art, writing, and movement, Cognitive Behavioral Therapy, and Acceptance and Commitment Therapy.
Areas of focus include: depression, anxiety, trauma, relationship issues, adjusting to life transitions/change, identity work, LGBTQIA issues, women's issues, self-esteem, career concerns and transitions, grief and loss, dealing with chronic and/or terminal illness, adjusting to new medical diagnosis and/or change in independence.
Gretchen believes in each individual's innate capability to heal and it would be her honor to walk alongside you as you endeavor toward greater health and wholeness.
Available at NW Ayurveda and Massage on Monday's only.
Sessions are 50 minutes in length at a rate of $100.
Gretchen offers a free 30 minute consultation in-person or over the phone.
For individuals experiencing financial limitations, she offers a restricted number of sliding scale slots.
Does not accept insurance at this time.
Gretchen M. Gerhardt, LMHCA founder of www.listeninghearttherapy.com